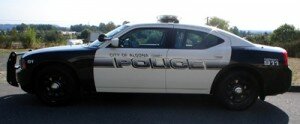 Welcome to the City of Algona Police Department. We are dedicated to provide non-discriminatory, effective and efficient law enforcement service in protecting the life and property of the citizens of Algona, and to ensure that the constitutional rights of all persons are protected.
Office Hours and Location
Our office is open Monday through Friday, 8:00 AM to 5:00 PM, and closed on legal holidays.
We are located at:
City of Algona
402 Warde Street
Algona, WA, 98001
Staff
Police Chief – A.W. "Buster" McGehee
Lieutenant - Lee Gaskill
Detective – James Schrimpsher
Police Clerk – Bambi Thawsh
Police Officers
Gilbert Lenger
James McKay
Joel Sutter
Robert Stephens
Rich Tison
Reserve Officers
James Kemper
Brian Bard
Terbinos Gebremariam
Rodolfo "Rudy" Guzman